The New Fotomuseum Winterthur!
For almost 30 years, Fotomuseum Winterthur has captured the imagination of photography enthusiasts around the world. However, visitor needs and the demands placed on a modern museum have changed in recent years. The museum's new building project and programme of renovation and redevelopment are geared to the vision that has been set out to create a museum of the future.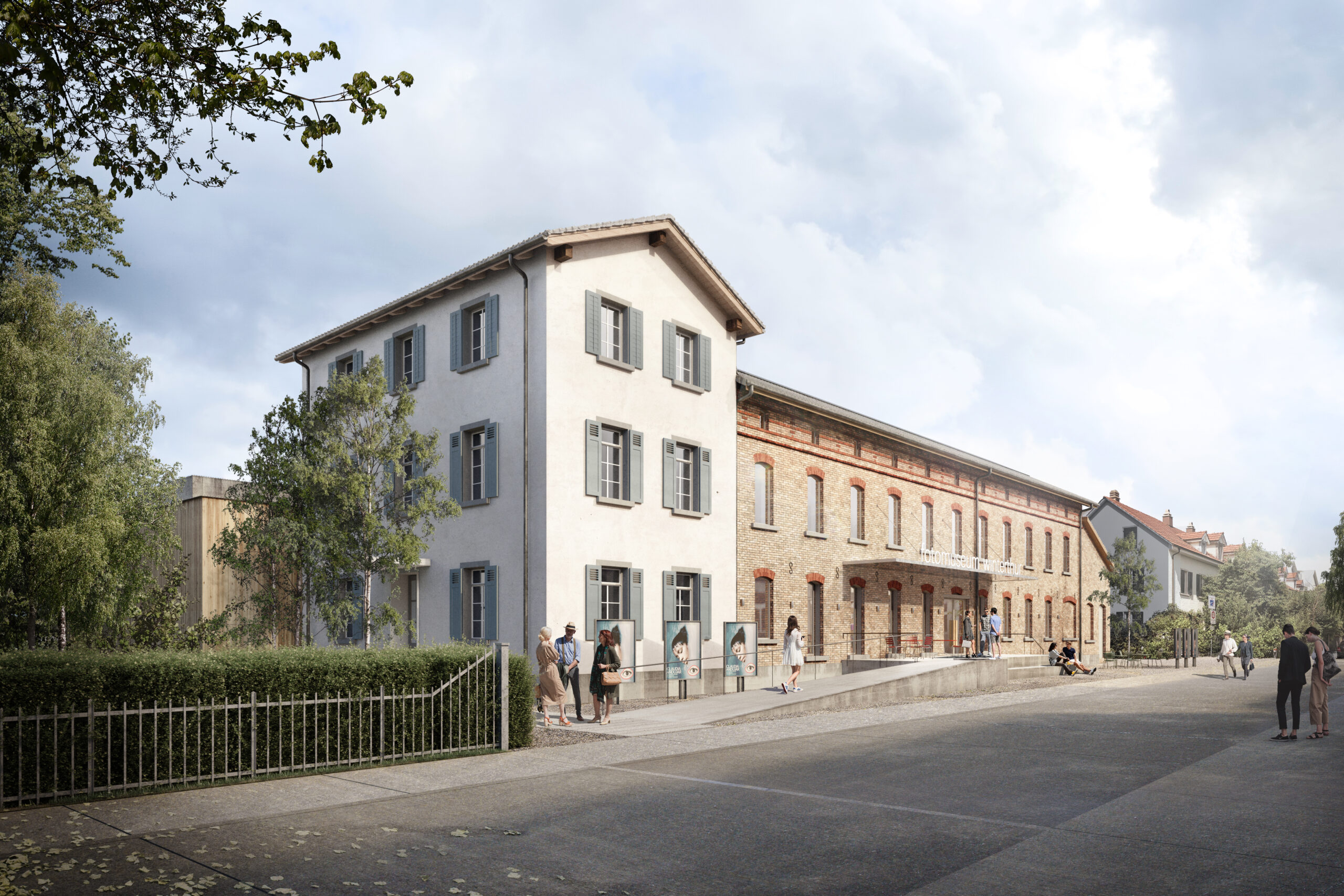 Visualisation of the new Fotomuseum Winterthur © Nightnurse Images
In 2017 and 2018, a study was done of the museum's immovable property. This revealed shortcomings in the ageing infrastructure, with an impact on climate control, safety and fire protection. To address these issues, Fotomuseum Winterthur is planning to renovate and redevelop the existing building. As part of these measures, an extension will be built that will satisfy the requirements of a modern museum.
The planned changes to the structure will provide space for new exhibition and event formats with an experimental approach. Communication with visitors, cultural participation and discursive formats will become even more of a focus: the museum will become a vibrant place of encounter.
Planning permission for the project was granted at the end of 2021. The new construction work and renovation phase will run from the third quarter of 2023 to the first quarter of 2025. During this time the exhibition spaces at Grüzenstrasse 44 will be closed. Fotomuseum Winterthur will host an exhibition in the rooms of Fotostiftung Schweiz and invite visitors to events, workshops, excursions and digital encounters.
Why the structural changes?
Need for renovation
The building will be converted to meet the relevant standards in safety, fire protection and energy usage and the work areas will be upgraded and tailored to modern-day requirements.
Focus on education
In future, education will assume a key role: it will be directly integrated into the museum's activities and thus become an even more high-profile feature of our programme.
Optimised operations
The museum will optimise and make full use of the space at its disposal, eliminating the congestion that is currently a concern for users.
New exhibition space
The potential for using the exhibition and event spaces will be exploited to the full, with the new rooms offering flexibility and the best possible conditions for contemporary and experimental formats.
New foyer area
Enlarging and opening up the foyer area will create a sense of expansiveness, generating a welcoming environment that will connect the museum activities with the outdoor space.
Transparency and openness
The building's new feeling of spaciousness will create an inviting atmosphere that will make the museum more open and transparent, both inwardly and outwardly.
Vibrancy
The building measures will give the museum an appealing sense of openness and an attractive presence that will feed into a modern institutional image.
An enhanced Center for Photography
The shared outdoor space will reinforce the connection between Fotomuseum Winterthur and Fotostiftung Schweiz, making the Center for Photography more recognisable as an institution.
Project team
Commissioning client
Stiftung Fotomuseum Winterthur
Grüzenstrasse 44+45
8400 Winterthur
Architecture
RWPA Architekten GmbH
Lagerplatz 6
8400 Winterthur
Project management
Topik Partner AG
Zeltweg 26
8032 Zurich
Construction management
Dürsteler Bauplaner GmbH
Rudolf Diesel-Strasse 3
8404 Winterthur
Structural engineering
Preisig F. AG
Obere Kirchgasse 2
8400 Winterthur
Electrical engineering
Marquart Elektroplanung + Beratung AG
Neuwiesenstrasse 62
8400 Winterthur
HVAC engineering
Balzer Ingenieure AG
Schützenstrasse 3
8400 Winterthur
Building physics
A und b bauphysik gmbh
Lagerplatz 24
8400 Winterthur
Fire protection
B-Planing AG
Ingenieure und Brandschutzplaner
Lohstrasse 13
8362 Balterswil
Property management
Setimmo Immobilien GmbH
Turnerstrasse 1
8401 Winterthur
Landscape architecture
Robin Winogrond
Landschaftsarchitektur und Urban Design
Hardturmstrasse 122a
8005 Zürich
Planning light
matí Lichgestaltung
Webereistrasse 68
8134 Adliswil
Planning shop
Andreas Widmer GmbH
In den Schorenmatten 236
4058 Basel